MID FREQUENCY EQ
TUBE EQUALIZER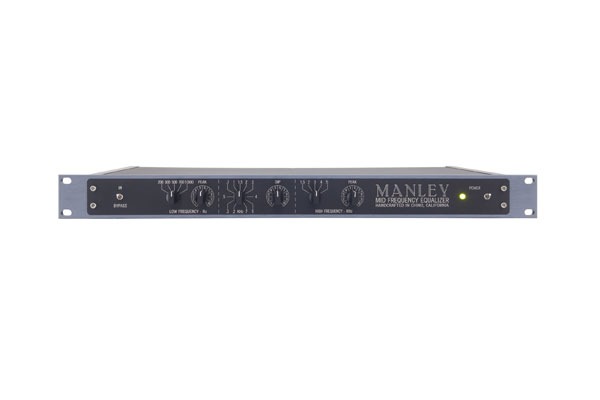 이 싱글채널 Mid Frequency EQ는 보컬, 기타 , 스네어 및 기타 다른 미드레인지 악기를 위한 비밀 무기입니다. 
기타, 보컬, 하모니카 및 바이올린과 같은 미드 밴드 지향 악기에 특히 유용한 MID FREQUENCY ENHANCED PULTEC EQ (MEQ-5 유형)는 Manley의 'EQP-1A'버전의 기능 및 사양이 동일합니다. 두 제품의 차이점은 패시브 EQ 부분에 있습니다. MID EQ에서 DIP 및 PEAK 컨트롤은 선택된 주파수를 중심으로 훨씬 날카로운 종 모양의 커브로 작동하기 때문에 엔지니어 겸 프로듀서가 매우 중요한 미드레인지를 보다 정밀하게 제어할 수 있습니다. 그래서 이 제품은 마스터링 엔지니어에게는 이 제품을 필수적으로 필요합니다. MID EQ는 Enhanced Pultec EQP-1A 타입 EQ의 저주파와 고주파 섹션 사이의 주파수 간격을 완전히 채웁니다. Pultec EQP-1A type EQ; 그리하여 이 두 가지를 결합하면 Tracking과 mastering를 위해 더 유연한 가능성을 제공합니다. 


SPECIFICATIONS
MANLEY input transformer with pure nickel laminations potted in mu-metal case. 3K Ohm input Z

PHASE REVERSE switch for balanced XLR input

Alternate transformerless 1/4″ HI-Z (5K Ohm) input

BYPASS switch & AUTO-MUTE w/warmup delay

Silent conductive plastic PEAK & SHELF controls

Sealed gold-contact Greyhill frequency select switches

Hi-current drive <50 Ohm LO-Z XLR & 1/4″ outputs

Balanced Transformer Coupled XLR Outputs

Flat frequency response from 10Hz-70KHz

<0.01% THD @ 1kHz

S/N Ratio: 116 dB

Adjustable FEEDBACK / GAIN: Unity ±5 dB

Max. output: +30 dBv

Power consumption: 18 watts
Operating mains voltage: Units are purpose built for original destination country's mains voltage: 100V, 120V, or 220-240VAC as indicated on the serial number badge. Power transformer must be replaced in order to change mains operating voltage. 120VAC units may NOT be rewired to put the primaries of the power transformer in series for 220-240V operation or a large radiated field of hum will develop. If changing locations/voltages, the power transformer must be replaced with the dedicated one for the voltage at which it will operate.

Mains Voltage Frequency: 50~ 60Hz

Dimensions: 19″ x 1 3/4″ x 10″ (occupies 1u)

Shipping weight: 12 lbs.